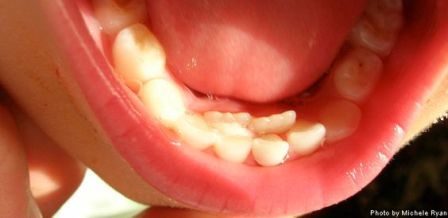 We often get calls to our office with worried parents about their child's permanent teeth coming in behind their baby teeth. Shark teeth (compared to a sharks two rows of teeth) are most common with lower incisors. This happens much more then you think and is nothing to be worried about.
As children grow in their permanent teeth, they dissolve the roots of the baby teeth. Once the root is close to being dissolved, the baby tooth becomes loose. These loose teeth eventually fall out and the adult tooth grows in its place.
With shark teeth, the root of the baby tooth doesn't dissolve quickly enough or the permanent tooth forms behind the baby tooth. Most of the time the baby teeth will eventually become loose and fall out on their own. With this space now open, chances are great for the teeth to self correct and move forward.
Sometimes these baby teeth do not become loose and need to be extracted. An x ray may be needed to determine if any treatment is necessary. If your child's regular check up is close, just wait and bring it up to the dentist at this visit. If your child's dental check up is a ways away and you have given the baby teeth time to become loose and they haven't, call us for a quick check.
Have your child give this area extra attention while brushing. Two rows of teeth leave even more places for plaque to accumulate and gingivitis can easily start. Having regular check ups with your child's pediatric dentist is always important for prevention and overall oral health.